Horseback riding in Lapland
16 July 2023
All horse riders have dreamed of riding in the snow, in Finnish Lapland, it is possible! Whether you are an experienced rider or even if it is your first time on horseback, everything possible! If you want to go horseback riding in Lapland, we tell you a little more in the following paragraphs:
Table of Contents
Horses in Lapland
Finland has its own national breed: the Finn or Finnish horse (in Finnish "suomenhevonen"). The Finnish horse is a very versatile breed, it is a light draft horse: both used for agricultural work (in the old days), as well as as a saddle horse or (and above all) for trotting races. Its size is on average 1m55 at the withers, these horses wear, for the most part, a chestnut coat.
If the national breed is the Finnish horse, we find in the Finnish stables, all breeds of horses and ponies similar to what we can find in the rest of Europe.
In Finland, the most practiced equestrian disciplines are:
Trotting races
Dressage
Show jumping
There are therefore also thoroughbred sport horses and other warm-blooded breeds. These sport horses get used to the special climatic conditions of the Arctic Circle, but they still need to wear warm blankets for the long and cold winter.
For travellers wishing to enjoy a beautiful ride in the Finnish forests, the most often used horses are from strong breeds able to overcome the climatic conditions of the country without any artificial help (blankets) while living day and night outdoors. Therefore, very often find Irish cobs, Icelandic horses, Finnish horses as well as American horses (Quarter or Paint Horse). These horses all originate from countries with extreme climatic conditions, which is why they are so popular for recreational riders in Finland.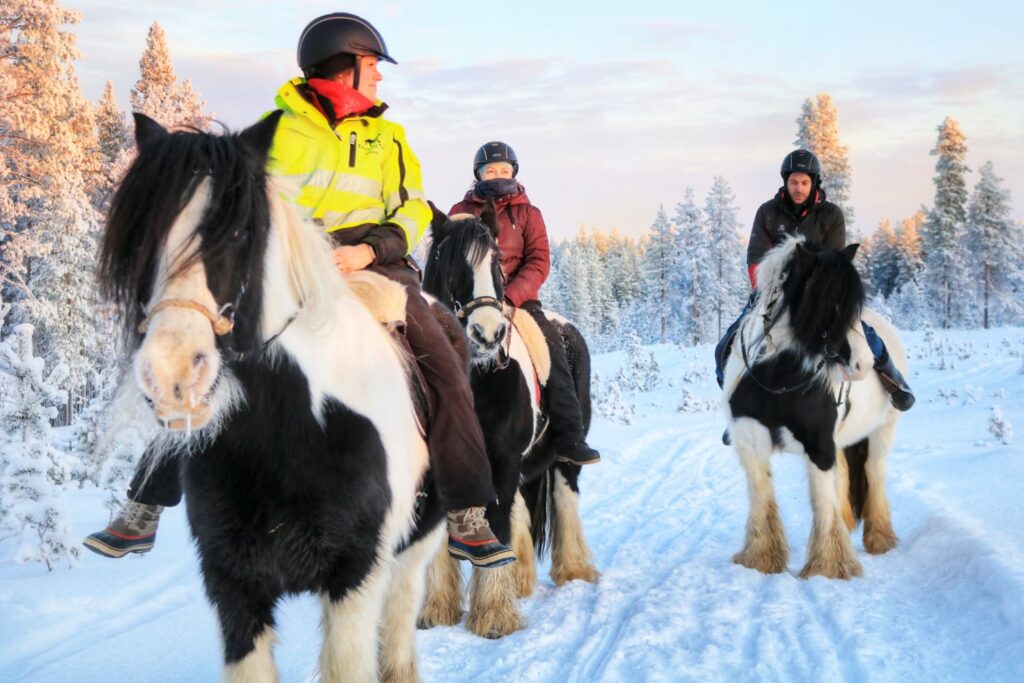 Frequently asked questions
The climatic conditions in Finland, and more particularly in Lapland, are so specific that several questions come to mind when we think of equines living in the northern Europe.
Horses and the cold weather
As mentioned above, the different breeds of horses adapt more or less well to the climatic conditions of the country.
Sport horses will have a daily life slightly different from more rustic horses: in winter, they go out to the paddock every morning and go back to sleep in the warm stable every evening. They are equipped with very warm blankets to be able to withstand the extreme cold of winter. The more fragile horses can even have two blankets on their backs at the same time! The owners or guardians of the stable is responsible for regularly checking that these horses are not feeling cold and have enough food to be able to keep warm.
As for rustic horses and ponies, they will be able to live outdoors all year round, without having to return to the stable at night, even under -35°C (-31F)! For these horses, continuous forage feeding is essential. It is also necessary to have a shelter with free access so that the horses can protect themselves from the wind, or even warm up together during a collective nap in the shelter.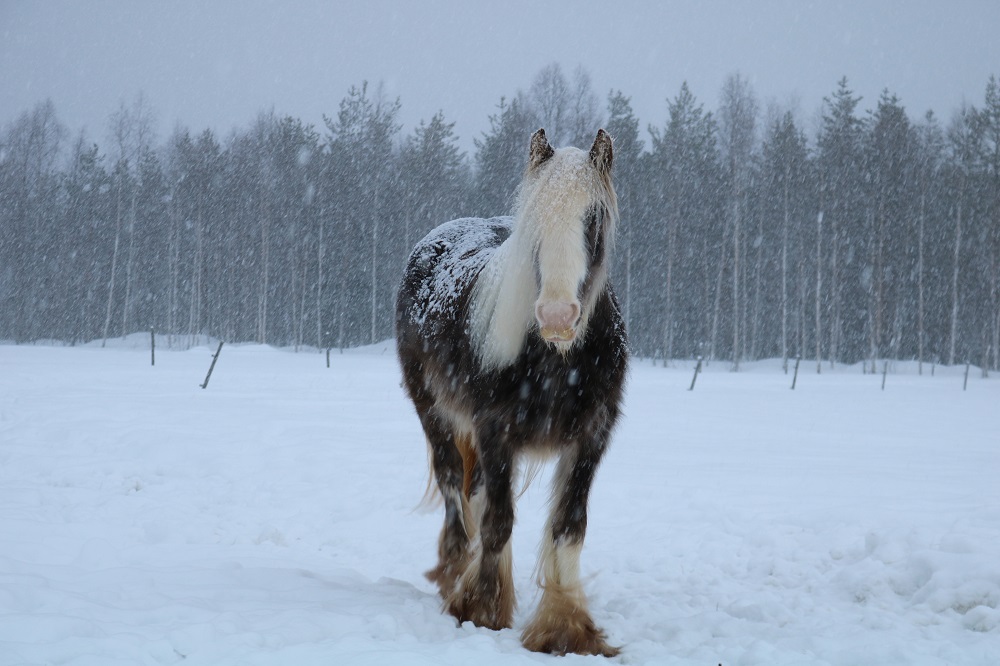 Horse's hooves in the snow
Can horses walk in the snow and on the ice without slipping?
Horse wearing shoes: in winter, shod horses must be equipped with small ice spikes as not to slip on snow and ice. This allows them to have a better grip on the frozen ground.
Barefoot horses: horses without shoes naturally have better grip on snowy ground and ice than horses with shoes. However, depending on the intensity and thickness of the ice, barefoot horses can slip too. It is possible to put hoof boots with small studs on the bottom (like the studded tires of a car!) to allow them to have better stability.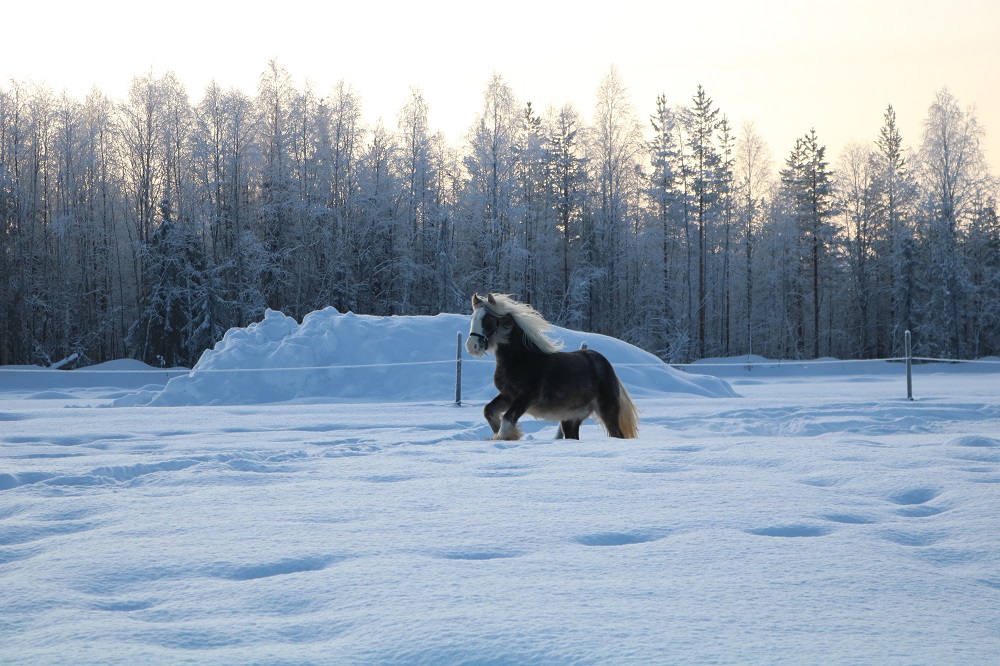 Do I have to be a confirmed horse rider to go on a horseback ride in Lapland?
Don't panic, even if it's your first time on horseback, you can take part in a horseback ride in Lapland! However, be sure to notify the agency with whom you are doing the ride of your level so that they can reserve the calmest horse for you.
If you do not wish to ride a horse, but still want to accompany your family, some agencies also offer the possibility of installing you comfortably in a horse sleigh for the walk in the forest: all you have to do is sit down and enjoy the snowy nature and its calm to the rhythm of the horses' hooves.
You can find more information about horse riding in Rovaniemi here.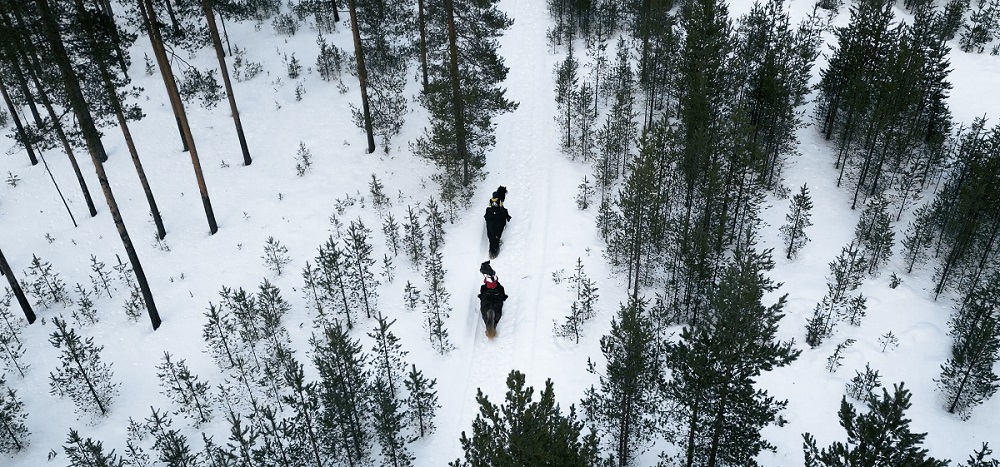 Horse riding in the snow in Finland
There is nothing more magical and soothing than horse riding in the snow. It is a unique way to enjoy the calm and serenity of nature, to find yourself alone on a horseback in the middle of a snowy forest.
In Finnish Lapland, there can be up to one meter of snow on the ground depending on the period of the year! We can therefore easily imagine that it is tiring for the horse to move with a rider on its back on a path that is not cleared of snow. If you take these paths during your walk, it will therefore not be possible to go faster than the walk during these passages. However, most stables offering horseback riding tours in Lapland maintain their riding paths and regularly clear their tracks. There are therefore only a few centimeters of snow on these paths, which allows horses to walk easily during rides, and experienced riders to enjoy galloping in the snow, in the vastness that Lapland has to offer.
Advice for horse riding in the snow
In winter, temperatures can drop to -35°C (-31F), most of the  agencies will offer you to wear warm overalls which we strongly advise you to wear if you go horse riding in the snow. Above all, don't neglect your feet, which will be the first to catch cold in the stirrups! If you have toes heaters, these will allow you to keep your feet (and your hands, if you have hand heaters too) warm throughout the ride. Mittens are essential and, even if they seem cumbersome, pose no problem for holding the reins (you will catch cold very quickly with gloves, even if they feel more comfortable).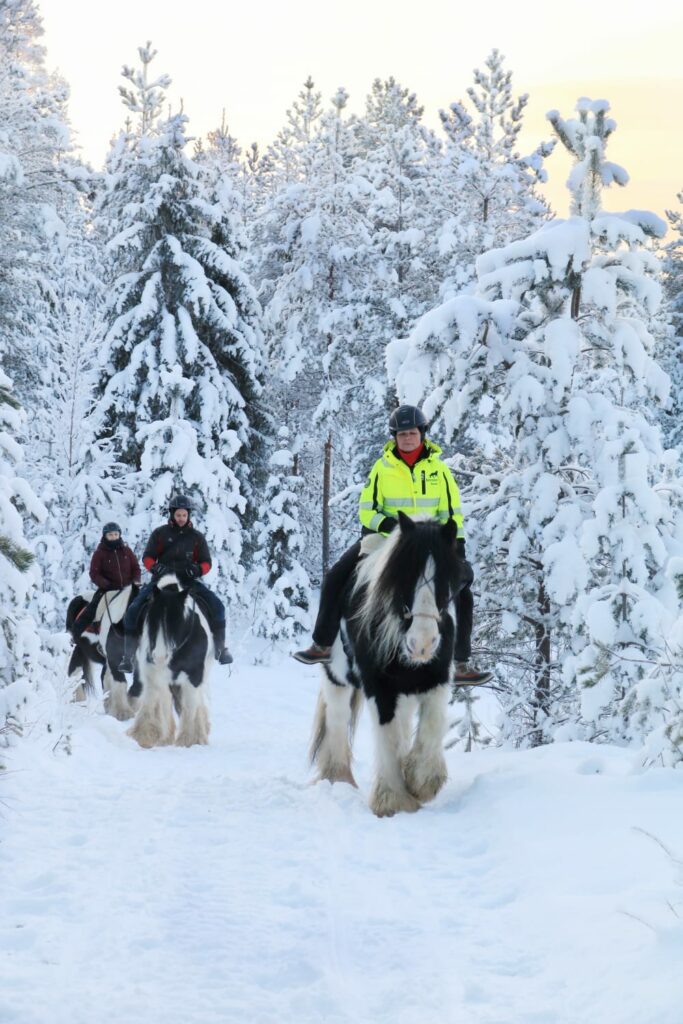 Horse riding in Lapland during summer
In summer, the forest trails in Lapland are countless and run through the magnificent boreal forests. The possibilities of paths are so numerous, and the Lappish nature so immense, that you will not meet anyone there and will be able to enjoy the calm of a horseback ride in the heart of nature. It is also an excellent way to cross paths with wild animals: reindeer (even if they are not really wild in Finnish Lapland), moose, hares and foxes for example. Towards the end of the summer (August-September) you may even be lucky enough to come across whole herds of reindeer (up to 50 reindeer per herd). However, do not forget to protect yourself against mosquitoes because they too, are part of the local fauna!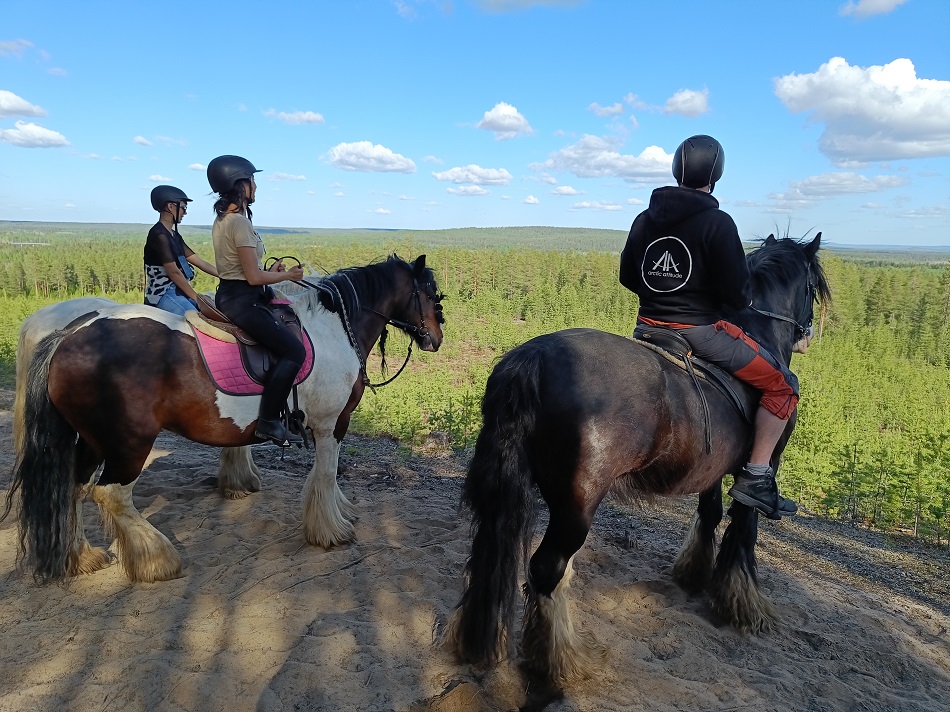 Horseback riding under the midnight sun
During your summer trip to Lapland, you will have the chance to observe the magnificent midnight sun. Some agencies offer horseback riding under the midnight sun. It is a superb opportunity to be able to enjoy this "sunset" that never ends. It is also the best way to be able to enjoy the calm of the night, to the rhythm of the calm horses roaming the forest.
Tips for summer horseback riding in Lapland: From June to the end of July, mosquitoes can be particularly aggressive when you spend time in the forests (the number of lakes and marshes are the main reason for this). However, if you are particularly sensitive to mosquito bites, all you need to do is wear long sleeves (and trousers, shorts are not suitable for horseback riding anyway) and carry a spray repellent, which you could apply to your skin or clothes just before you hop in the saddle (so as not to scare the horses with the noise).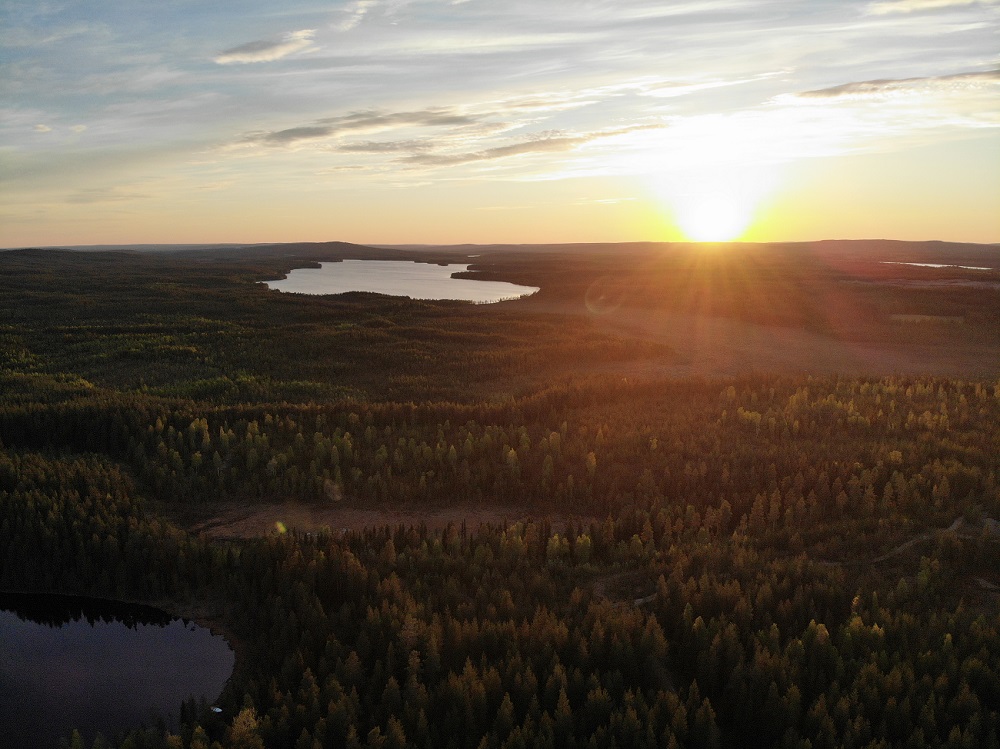 You are now ready for a horseback ride on your next holiday in Lapland!
For experienced riders who dream of galloping in the snow on the long and beautiful zigzagging paths in the forest, we advise you to book a private horseback ride so as not to find yourself in a group with less experienced riders.
Agencies offering horseback riding in Lapland
Here are some agencies that offer horseback or sleigh rides in the boreal forests of Finnish Lapland:
• LuckyRanch – Finland Lapland : Horseback riding in Luosto,
• Arctic Attitude – Une expérience de voyage unique en Laponie : Horseback riding and sleigh rides in Rovaniemi,
• Lapin Saaga : Horseback riding and sleigh rides in Kittilä.
More to do while you are in Lapland
If you are also interested in hiking during your holidays in Lapland, here is a list of recommanded hiking trails around Rovaniemi:
You May Also Like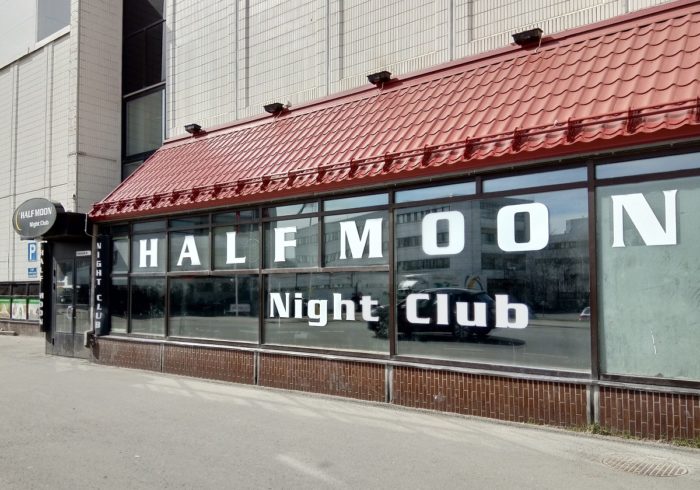 22 February 2019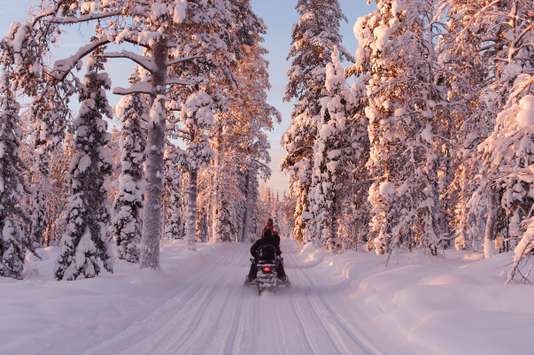 8 November 2018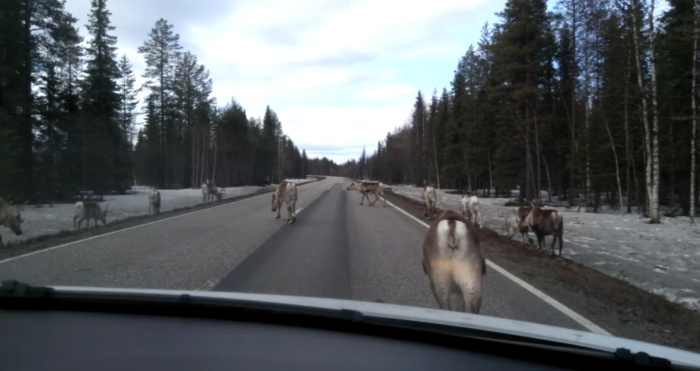 20 August 2018